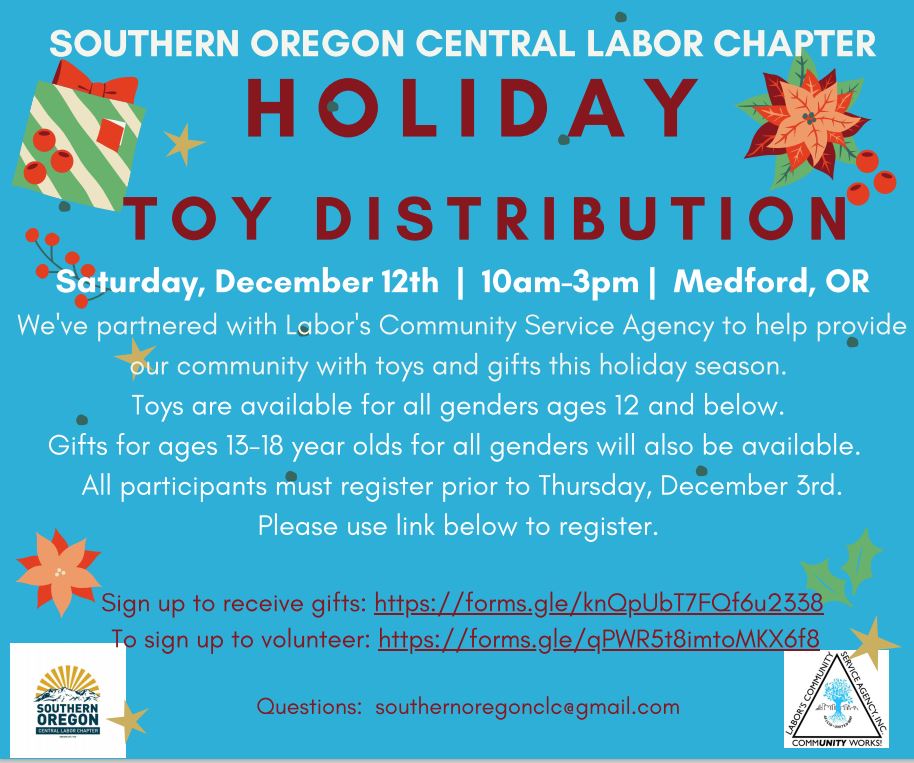 The Southern Oregon Central Labor Chapter is hosting a holiday toy distribution event on Saturday, December 12 from 10a-3p.

 The Labor Chapter is working with Labor's Community Service Agency to bring the Presents From Partners event to Southern Oregon. This event is intended to help provide our community with some holiday cheer, and help offset the expenses of the season. Even without Covid19 or the fires, this time of year can be challenging for many of us and our hope is to lighten the load. We will be doing a drive-thru style event with limited-contact. Delivery options are also available. Anyone interested must fill out the registration form before the event. 
EVENT INFO:
Saturday, December 12th
2495 S. Pacific Hwy Medford, OR 97502
10am – 3pm
Registration for this event closes Saturday, December 5th or when the event is full, so don't delay!
Folks interested in receiving toys and gifts, please fill out this Google form. Flyers are attached as well.
Form in English: https://forms.gle/h8EN3QeEFuhpXyFy9
Form in Spanish: https://forms.gle/48UZFU6Y5oUnu9jG6
Interested in volunteering, please fill out this Google form:
https://forms.gle/ZZTKaTUTHVPa8P3s7